I am honored to have been interviewed by Allison Berg for the June issue of Hamptons Magazine. The article breaks down 30 of my favorite artists to collect for three popular Hamptons-style homes: Postmodern Barn, Traditional Shingle, and Contemporary.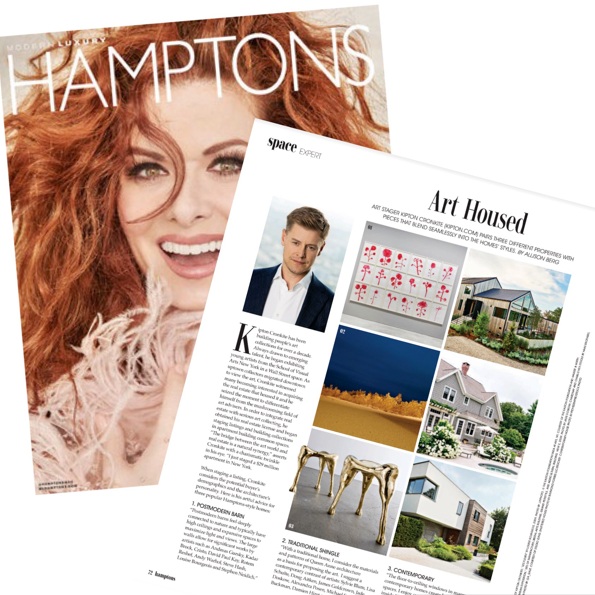 I began exhibiting young artists from the School of Visual Arts New York in a Wall Street space in 2010 and as uptown collectors migrated downtown to view the art, I witnessed many becoming interested in acquiring the real estate that housed it. Since that time, I seized the moment to differentiate myself from the mushrooming field of art advisers. For over a decade, I've been creating beautiful art collections to enhance real estate. Learn more and connect with me today!
Artists Curated for the 3 Hamptons-style homes:
Andreas Gursky, Kadar Brock, Cristo, David Paul Kay, Rotem Reshef, Andy Warhol, Steve Hash, Louise Bourgeois, Stephen Neidich, Sylvie Blum, Lisa Schulte, Doug Aitken, James Goldcrown, Jade Doskow, Alexandra Posen, Michael Scoggins, Zoe Buckman, Damien Hirst, Ross Bleckner, Spencer Tunick, Shay Kun, Lindsey Warren, furniture by the Haas Brothers, Laura Owens, Thomas Struth, Jenny Holzer, Laura Kimpton, Ai Weiwei, and Miya Ando.