Spectrum's twenty two, 36×24 inch works represent monochromatic stages inspired by various wavelengths of the electromagnetic spectrum.

Kipton Cronkite
In 2010 I met process-driven abstract action painter Rotem Reshef in New York and in 2011, was hired to build a collection of abstract artworks for a client in Utah. The client expressed their desire for Abstract Expressionism (but a lower price tag than Pollock and Frankenthaler), so I suggested they consider Reshef's work. The result: the client commissioned a multi-colored abstract piece which was hung beside a large picture window overlooking snow capped mountains in Park City, Utah. The client became consumed by the purity and connection to nature while I began to fall more deeply in love with Reshef's process.
After receiving a prestigious scholarship from the America-Israel Cultural Foundation, Reshef honed her process even more by participating in a summer residency at the School of Visual Arts in New York. As she began to explore the transition of the four seasons, she created "Time Traveler" for the University of La Verne in Southern California. In 2018 in Tel Aviv, she debuted "Intervals" which expanded her focus even further. As we discussed the unique space at Soho House and the warm climate in LA, she created 22 works which feature gradients of cold, warm, and hot. Reshef's newest series, "Spectrum", was installed at Soho House West Hollywood on July 1 and will be on display through July 30, 2018 (by appointment only).
I interviewed Reshef to introduce her to a wider collector base and dive into some personal aspects of her career. I hope you'll take a few minutes to read the interview below! If you're in Los Angeles this month, message me and I'll take you on a virtual tour. I'm proud that my Q&A was also published in the July 2018 issue of the Jewish Journal!
Thank you Rotem for sharing your gift of art with us and for the opportunity to work together again! -Kipton
---
Q: WHY DID YOU CREATE "SPECTRUM" … THE NEW SERIES CURRENTLY AT SOHO HOUSE WEST HOLLYWOOD?
A: Spectrum was created specifically for the Soho House West Hollywood after seeing the space in early 2018. I wanted to create a series of paintings as one unit, but one that was also divided into singular paintings that could work by themselves. In the last two years I have been interested in the transitions of seasons, as they might be portrayed in the era of climate changes and global warming. "Spectrum" comes as a continuation of this thematic exploration.
Q: WHAT INSPIRES YOU?
A: Despite living an urban life, I am inspired by my everyday experiences and interactions with the nature around me. Inspiration can come from falling leaves that I find on the ground or on my car, or by trees that are framed by the windows of my studio. The juxtaposition of the flora and fauna with the urban environment of cement and smog, comes through my work via the tonal and textural tension between the vibrant colors in their restrained forms. The paint is bright but suggests dryness, similar to the restrained nature that appears here and there in the urban surroundings. I am of course inspired by culture and other creators working in arts, theater, fashion or cuisine, among other things. Inspiration is all around.
Q: TELL ME ABOUT YOUR ARTIST IN RESIDENCY AT THE SCHOOL OF VISUAL ARTS IN NYC.
A: In 2015 I spent a summer as an artist in residence at the School of Visual Arts in New York. Although I am dividing my time between my studios in Tel Aviv and New York, it was very interesting to be surrounded by art students and teachers who are established artists themselves. It almost felt like going back to art school as a student myself and I devoted most of my time to explore and develop my art. The inputs I got through the residency and the feedbacks I received while I held my solo exhibition there, were eye opening, and encouraging toward more experimentalism and risk taking in my work.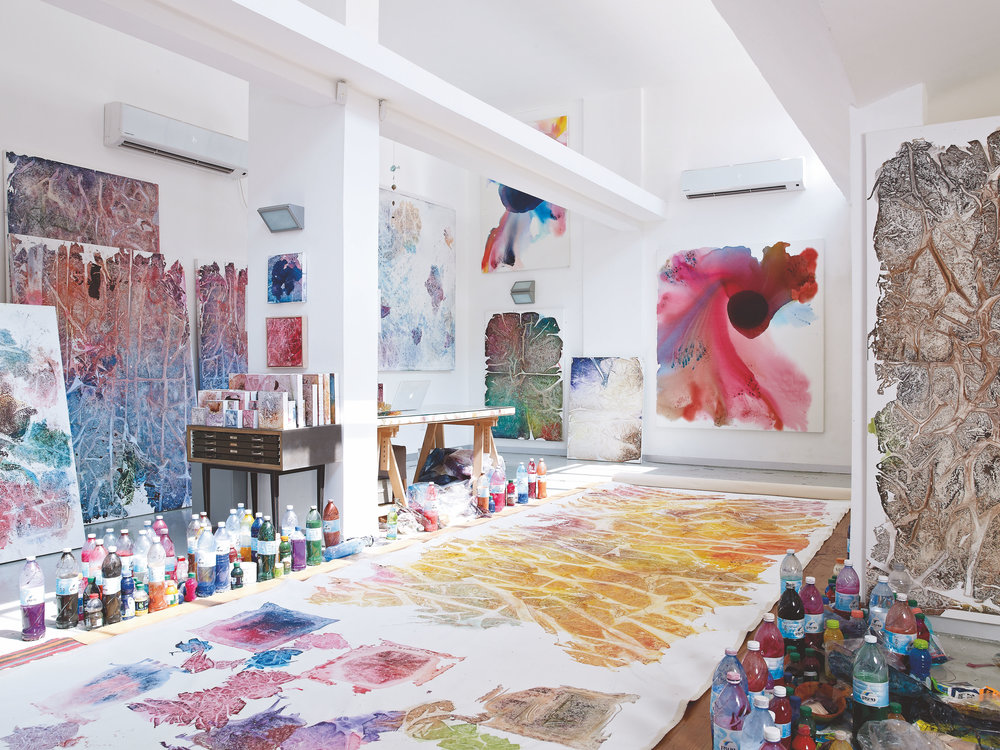 Q: WHAT WAS THE PUBLIC FEEDBACK OF YOUR 2018 PUBLIC INSTALLATION IN TEL AVIV?
A: The reactions were tremendous, both from people in the local art scene, from my followers on social media and from the general public. It also received nice reviews in the press. Since it is a mural on the facade of The Artists House, a very popular and well known institute in Tel Aviv, it is being seen by hundreds of people every day. The impact on the building itself and on the surrounding neighborhood is so significant, that at this point it became an open ended installation.
Q: WHEN YOU CREATE YOUR PAINTINGS, PLEASE EXPLAIN YOUR PROCESS
A: I'm a process based artist. In my paintings I don't work towards a specific outcome but embrace the process of creation. In contrast to painters that use an easel, or a wall, or even brushes, I make the paintings with canvases that are placed on the floor, and work with diluted paint, alongside different materials that are placed on the wet surface. For "Spectrum" I used different vegetation – branches, leaves, palmates and pinnates. I covered the canvases with these extracts of nature, leaving them for over a week for the pigments to absorb, before removing the organic components. The results created a ghost-like eternal blossoms of vivid landscape, that merge nature with artificially, temporality with eternity.
Q: HOW IS THE ARTIST CULTURE IN TEL AVIV DIFFERENT FROM THE ARTIST CULTURE IN NYC?
A: Both cities are very vibrant and dynamic, very busy, not to say hectic. Both have amazing artists, but of course the scene is Tel Aviv is smaller, much less known, there are fewer galleries, fewer collectors and fewer institutions. The New York art scene has a long history and it is much more established. The Tel Aviv art scene is still evolving and growing. I enjoy spending time in both places, one balances the other.
Q: TELL ME SOMETHING ABOUT YOURSELF NO ONE KNOWS
A: Although I'm a city person, I guess agriculture runs in my blood. My great grandfather was a farmer and an author, and as an owner of many orange orchards, was among those who built the brand Jaffe Oranges. My grandma worked in the Israeli research institution for agriculture (Volcani Center), my father was the head of the Botanical Gardens in Tel Aviv for many years, and here I am, collecting trimmed branches, imprinting them on canvases and creating my art with them.
Although this repetition of seasons occurs every year, it never repeats in the same way," says Reshef. "Each season of every year, is one-of-a-kind creation of nature that disappears, only to re-emerge again, differently.

Rotem Reshef
---
ARTIST STATEMENT:
In a world that is flooded with images and with paintings, Rotem Reshef is interested in creating a process and time-based painting experience, that is hard to fully translate via digital media, challenging the stream of "Instagram" imagery. Reshef's method of working is on horizontal surface on the studio floor, using diluted acrylic paint, and imprinting different vegetation – branches, leaves, palmates and pinnate as well as common, unpoetic materials as plastic sheets and bubble wraps, that are often used to coat and protect art objects. Reshef covers the wet surface of the canvas with these materials and extracts of nature, and let them "suffocate" the richness of the colors. Leaving them for several days or weeks for the pigments to absorb, and then removing the organic and un-organic components, resulting in a ghost-like presence of eternal blossoms of vivid landscape, via the fixating character of the artwork. This idea of "control and release", in which she balances between her role as the creator, and as a collaborator with the painting materials, is evident in her work, and most recently in the current exhibition, "Spectrum".

PROJECTS:
Rotem Reshef's collaborations and prizes include participating in Italia Docet Laboratorium, part of the Venice Biennale 2015 and in Scope Miami. In 2012 she took part in a fashion and design project in Art Basel Miami, part of a collaboration with Kipton Cronkite and MCM Leather Goods. In 2010 Reshef won the first prize in the Art & Business category as part of Arte Laguna competition, and two of her paintings were reproduced as labels in a prestigious wine collection. Reshef received a scholarship for a promising young artist by America-Israel Cultural Foundation and is a recipient of Honorable Mention in LICC, London International Creative Competition.
EXHIBITION HISTORY:
"Intervals", Artists House, Tel Aviv (2018); "Time Traveler: Part ll – Compass", California Lutheran University, Thousand Oaks, CA (2018); "Time Traveler", Tall Wall Space, University of La Verne, CA (2017); "Something Blue" (2017) Alessandro Berni Gallery, New York, "Phantom Stream", Be'eri Art Gallery, Israel (2017); and "Control l Release", TLV Art Space, Tel Aviv (2016). Among her group exhibitions: "Still Moving", at the Gray Space Gallery, Santa Barbara, "In My Garden" at the art space in the West Village, New York, "Aiming for Touch(down)" at P8 gallery, Tel Aviv (2017), "Collective Memory", New York-Glasgow-Dublin (2016), "The 30th Annual Tallahassee International Exhibition", FSU Museum of Art, Florida (2015), "The 53rd International Exhibition", San Diego Art Institute (2015) and more. Reshef has been collaborating with the LA and NY based Art Advisor, Kipton Cronkite since 2010.